Gulf Shores, Alabama, is a coastal gem that offers a variety of activities for tourists and residents alike. This beautiful stretch of coastline boasts picturesque beaches, a vibrant nature scene, and a host of entertainment options. Whether you're seeking relaxation, adventure, or a stroll through history, Gulf Shores has something for everyone.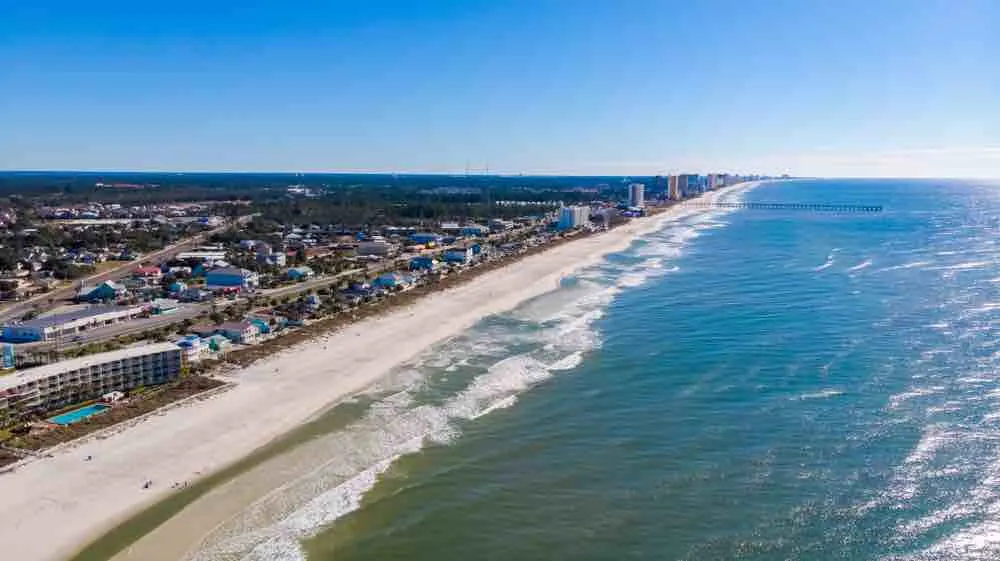 In addition to the stunning white sandy beaches, Gulf Shores offers a plethora of attractions to cater to diverse interests. Discover the Gulf State Park with its numerous outdoor activities, explore the rich history and museums, or indulge in fresh local seafood at the numerous dining options available in the area. Family-friendly amenities, abundant wildlife, and picturesque landscapes also provide a wealth of opportunities for nature and photography enthusiasts.
Key Takeaways
Gulf Shores, Alabama, offers a range of activities, including beautiful beaches, nature exploration, and entertainment.
Attractions in Gulf Shores encompass outdoor activities at Gulf State Park, historical museums, and dining at local seafood restaurants.
This coastal destination is ideal for family vacations and nature enthusiasts, providing opportunities for wildlife encounters and photography.
Discover Gulf Shores and Orange Beach
Gulf Shores and Orange Beach are two stunning destinations on Alabama's coastline, offering a mix of natural beauty, rich history, and thrilling activities. These coastal towns are perfect for families, couples, and individual travelers alike, delivering unforgettable experiences for every visitor.
One of the main attractions in Gulf Shores and Orange Beach is the 32 miles of sugar-white sand beaches. Visitors can start their day with a breathtaking sunrise or end it with a stunning sunset, taking in the remarkable colors of the coast. The beaches also provide ample opportunities for swimming, sunbathing, and enjoying various water sports.
The Alabama Gulf Coast Zoo is an exciting destination for animal lovers of all ages. This interactive and educational facility houses both native and exotic species, allowing visitors to get up close with their favorite animals. For history enthusiasts, the town's iconic Fort Morgan offers insight into coastal Alabama's past and its role in the Civil War.
For those looking for unique ways to explore the area, consider taking a Segway tour of the picturesque surroundings. Visitors can also venture outdoors and enjoy the area's natural beauty through nature trails, birdwatching, and even dolphin and wildlife cruises.
Gulf Shores and Orange Beach also cater to thrill-seekers with an array of attractions such as waterparks and fun runs. If you'd like a more leisurely experience, you can spend some time visiting local museums, shops, and indulging in the region's delicious cuisine.
Beaches and Coastline
Public Beaches
Gulf Shores, Alabama is home to some stunning public beaches that draw thousands of visitors each year. One of the most popular is Gulf State Park, located at 20115 State Hwy 135, Gulf Shores, AL 36542. Spanning over 7,000 acres, this park offers more than just two miles of beautiful white-sand beaches—it also includes a championship golf course, pavilion, tennis courts, hiking trails, and a fishing pier.
In addition to Gulf State Park, there are numerous other public beach access points throughout Gulf Shores and its neighboring city, Orange Beach. Each access point provides a different experience, allowing you to explore the diverse ecosystems that line the Alabama coastal region.
White Sand Beaches
Perhaps one of the most defining features of Gulf Shores' beaches is the 32 miles of pristine, sugar-white sand that lines the coast. These white sand beaches are not only visually stunning, but also provide a unique, soft texture underfoot that is perfect for walking and lounging. The sugar-white sand combined with the clear turquoise waters of the Gulf of Mexico create a picturesque scene that is truly unforgettable.
With its beautiful coastline, variety of public beach access points, and sugar-white sand beaches, Gulf Shores, Alabama is a must-visit destination for beach lovers. Whether you're looking for relaxation, adventure, or a family-friendly getaway, you'll find it all on the shores of the Gulf of Mexico.
Gulf State Park Attractions
Gulf State Park is a major attraction in Gulf Shores, Alabama, offering a variety of outdoor activities for visitors to enjoy. This 6,150-acre park features beautiful nature trails, wildlife, and water activities, making it an ideal place to explore the Gulf Coast area.
Trails and Hiking
Gulf State Park boasts an extensive network of hiking and biking trails suitable for visitors with different skill levels. Some popular trails include:
Hugh S. Branyon Backcountry Trail: A system of multiple interconnected trails featuring diverse wildlife and breathtaking scenery.
Gulf Oak Ridge Trail: A short trail that takes you through hardwood forests and offers an opportunity to spot an alligator or two.
Rattlesnake Ridge Trail: A more challenging hike that rewards you with stunning views of the park and surrounding area.
Lake Shelby
Lake Shelby is one of the main attractions at Gulf State Park. The 900-acre freshwater lake offers various water-based activities such as:
Kayaking
Canoeing
Paddleboarding
Swimming
Lake Shelby is also a great spot for picnics, with picnic tables scattered around the lake and pavilions available for rent.
Nature Center
The Nature Center at Gulf State Park serves as an educational hub, providing interactive exhibits and programs about the park's wildlife and ecosystems. Here you can get up-close encounters with native species and learn about the park's conservation efforts.
Fishing Pier
The park features a 1,540-foot long fishing pier, providing anglers with the opportunity to catch a variety of fish species. Known as one of the longest piers on the Gulf of Mexico, this pier is well-equipped with facilities such as benches, restrooms, and a bait shop.
Dog Park
Gulf State Park is also pet-friendly, featuring a designated dog park where your furry friend can play and exercise off-leash. The dog park includes separate areas for small and large dogs, providing a safe and enjoyable space for your pets to socialize.
Outdoor Activities and Adventure
Water Sports
Gulf Shores offers an array of thrilling water sports activities for families and adventurers alike. Enjoy parasailing over the stunning coastlines or try out jet skiing for an adrenaline rush. Those who prefer a more tranquil experience can opt for paddleboarding and explore the calm waters of the area.
Kayaking and Biking
For nature enthusiasts, kayaking presents an opportunity to paddle through the serene waterways, while observing the local flora and fauna. The Back Bay Blueway Trails provide picturesque routes perfect for an afternoon kayak trip.
Biking is another popular activity in Gulf Shores. With dedicated biking trails in Gulf State Park, visitors can traverse various terrains while appreciating the natural beauty of the surroundings. Don't miss the opportunity to witness remarkable bird species during your ride.
Dolphin Cruises
Embark on a memorable dolphin cruise with the whole family, where you'll have the chance to observe playful dolphins in their natural habitat. Several tour operators in Gulf Shores offer educational and entertaining experiences, which are suitable for all ages.
Deep-Sea Fishing
Calling all anglers! Gulf Shores is an ideal destination for deep-sea fishing expeditions. Numerous fishing charters are available for you to explore the bountiful waters of the Gulf of Mexico and test your fishing skills under the guidance of experienced captains. Whether you're a novice or a seasoned angler, the adventure awaiting in Gulf Shores is sure to be unforgettable.
Explore Wildlife and Nature
Alabama Gulf Coast Zoo
The Alabama Gulf Coast Zoo is a perfect destination for animal lovers on a beach vacation. The zoo is home to various animals, including alligators, birds, and other fascinating creatures. This family-friendly attraction allows visitors to get up close and personal with the animals, providing an unforgettable experience.
Bon Secour National Wildlife Refuge
Bon Secour National Wildlife Refuge is a haven for nature enthusiasts, boasting beautiful beaches and diverse wildlife. The refuge is a critical habitat for threatened and endangered species, such as the Alabama beach mouse and sea turtles. In addition, it serves as a resting and feeding area for migratory songbirds, making it an excellent spot for birdwatching. Visitors can enjoy the natural beauty of the refuge while exploring various hiking trails and taking in stunning views of the Gulf Coast.
Hugh S. Branyon Backcountry Trail
The Hugh S. Branyon Backcountry Trail takes visitors through a network of scenic and accessible trails within the Gulf State Park. This trail system, rich with natural beauty, offers an immersive experience for those seeking a serene nature escape. Hikers and bikers can encounter diverse flora and fauna, including birds and alligators, while exploring the trails. The tranquil environment of the backcountry trail system provides a unique and memorable experience for all who venture there.
History and Museums
Fort Morgan
Fort Morgan is an important historical site in Gulf Shores, Alabama. Established in 1819, the fort played a critical role in the Battle of Mobile Bay during the Civil War. Today, visitors can explore the well-preserved fort, learn about its history through informative exhibits, and even attend living history demonstrations.
Additionally, Fort Morgan offers stunning views of the bay and the Gulf of Mexico, making it a popular destination for history buffs, nature-lovers, and photographers alike.
Gulf Shores Museum
Another notable historical attraction in Gulf Shores is the Gulf Shores Museum. This local history museum showcases the stories of the coastal town, its people, their lives, and their livelihoods. Here, visitors can explore a range of permanent and special exhibits, delving into the area's rich past.
One of the museum's highlights is the "Hurricane Hunters" exhibit, which allows guests to experience flying through the eye of a hurricane. The Gulf Shores Museum is an excellent stop for those interested in learning more about the region's unique history and culture.
Dining and Shopping
Local Restaurants
In Gulf Shores, Alabama, you can find a variety of local restaurants that offer delicious food and a pleasant atmosphere. Among the top options are:
The Hangout: A popular spot for great food and family fun, The Hangout features live entertainment and a relaxing fire pit area.
Lucy Buffett's LuLu's: Located on the Intracoastal Waterway, LuLu's is known for its fun, food, and music, offering a unique dining experience.
Gulf Shores Seafood: This seafood restaurant provides a delightful and affordable menu of fresh, locally-caught seafood dishes.
Sassy Bass Island Grill: Offering American and seafood cuisine, visitors can enjoy their meal with delicious dishes like crab cake and cheeseburgers.
The Wharf
The Wharf is a must-visit destination for shopping and dining in Gulf Shores. This entertainment district includes:
A variety of shops and boutiques offering unique items and souvenirs.
Restaurants such as Books A Million that offers an extensive selection of books, magazines, and collectibles.
Family-friendly attractions and activities like an observation wheel, movie theater, and miniature golf.
Marina
For dining with a view of the marina, explore the multiple restaurants available in the area. Some options include:
The Pink Pony Pub: This famous Gulf Shores establishment has been around since 1956, offering guests picturesque views of the water as they dine.
Tacky Jack's: A popular spot for locals and tourists alike, Tacky Jack's provides a waterfront dining experience with delicious seafood and drinks.
Overall, Gulf Shores offers a fantastic combination of dining and shopping experiences, whether you're seeking fresh seafood, local family-owned establishments, or unique boutiques.
Family Entertainment
Gulf Shores, Alabama offers a variety of family entertainment options that cater to all ages, making it a perfect destination for a family beach vacation. This section will discuss some of the popular attractions including The Park at OWA, The Factory, Go-Karting, and Mini-Golf.
The Park at OWA
The Park at OWA is a premier amusement park in Gulf Shores, with 21 exciting rides suitable for both children and adults. From thrilling roller coasters to family-friendly carnival-style attractions, there's something for everyone at OWA. The park also features various dining and shopping options, ensuring that you can spend an entire day enjoying quality family time.
The Factory
If you're looking for an indoor adventure, The Factory is a popular entertainment center that offers a variety of activities. With over 50 trampolines, foam pits, dodgeball courts, and basketball goals, this facility guarantees hours of fun for the entire family. The Factory also has an arcade with classic and modern games, catering to both young and older visitors.
Go-Karting
For those seeking more excitement, Gulf Shores has several go-karting tracks that provide a thrilling family experience. Easily accessible and enjoyable for all ages, go-karting is an adrenaline-pumping activity that allows everyone to showcase their competitive spirit. Most tracks offer double-seater karts, ensuring that parents can enjoy the ride alongside their younger children.
Mini-Golf
Gulf Shores also offers various mini-golf courses, each featuring a unique theme and challenging obstacles. Playing mini-golf is a perfect opportunity for families to bond while engaging in a fun and entertaining activity. Many courses even provide additional attractions such as bumper boats or arcade games, so there's no shortage of amusement for the whole family.
Outdoor and Nature Photography
Gulf Shores, Alabama is a picturesque location that offers a variety of opportunities for outdoor and nature photography enthusiasts. The area is rich in wildlife, scenic landscapes, and stunning beaches that provide a perfect backdrop for capturing breathtaking images.
One prime location for nature photography in Gulf Shores is the Bon Secour National Wildlife Refuge. Spanning over 7,000 acres, this refuge is situated west of Gulf Shores and adjacent to the Fort Morgan Peninsula. Surrounded by lush forestry, the refuge provides excellent opportunities to photograph diverse wildlife and unique natural beauty.
Along the coast, the beautiful beaches of Gulf Shores and nearby Orange Beach provide ample photography opportunities. Admire the powdery white sand and crystal-clear waters, perfect for capturing serene seascapes and vibrant sunsets. Waterfront photo opportunities abound, with tranquil inland lakes and striking Gulf Shores beaches offering a variety of picturesque settings.
In addition to the stunning coastal landscapes, Gulf Shores is home to various nature and recreational parks, such as the Gulf State Park and the Back Bay Blueway Trails. These parks offer scenic trails for hiking and biking, allowing photographers to explore the diverse terrain and capture images of local plants, birds, and other native wildlife.
Experienced and amateur photographers alike can find endless inspiration in the magnificent outdoor beauty Gulf Shores has to offer. From scenic wildlife refuges to pristine beaches and lush nature trails, this Alabama gem provides an abundance of opportunities to capture stunning photographs.