Nestled in the heart of Alabama, Alexander City has a plethora of activities and attractions to offer its visitors. With its rich history, abundance of outdoor recreation options, and vibrant community events, this charming city has something for everyone. Whether you're a history enthusiast, an outdoor lover, or just looking for a place to relax and enjoy the sights, Alexander City will not disappoint.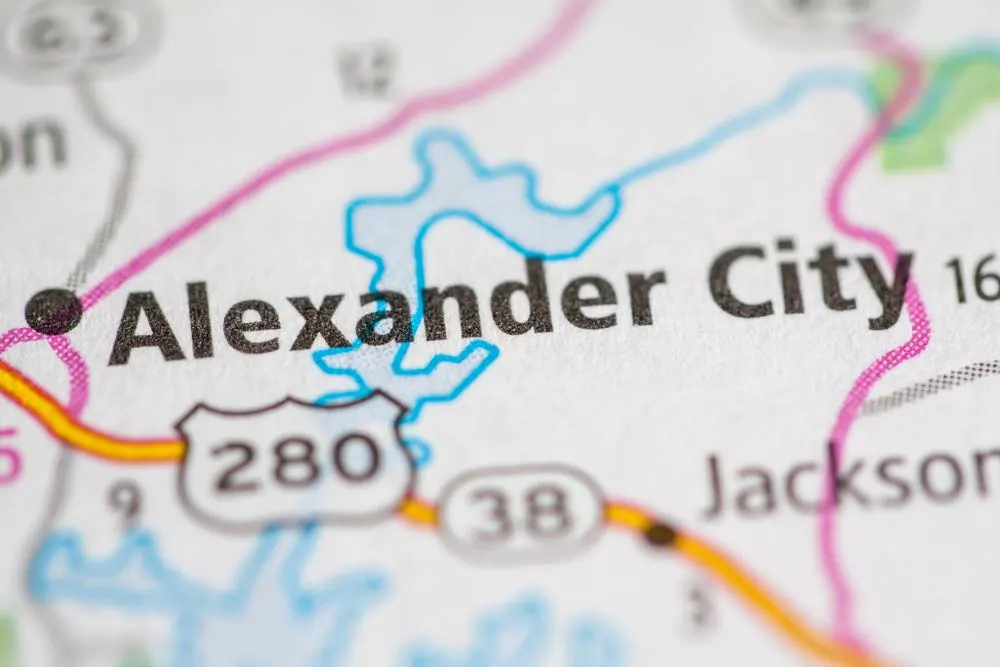 The city is particularly well-known for its outdoor activities, such as boating on Lake Martin, fishing the Tallapoosa River, exploring subterranean caverns, and trekking through national forests. In addition to the natural beauty of its surroundings, Alexander City also boasts plenty of entertainment, shopping, and dining options for you to indulge in during your stay. Visitors can spend their days exploring the historic downtown area, enjoying a variety of local events, or simply unwinding while appreciating the picturesque landscape.
Key Takeaways
Alexander City offers a range of activities, including outdoor recreation, historical sites, and community events.
Lake Martin is a popular destination for boating, fishing, and other water-based activities.
Visitors can enjoy a diverse range of shopping and dining options in and around the city.
Historical Attractions
Alexander City, located in Tallapoosa County, Alabama, is rich in history and offers visitors a chance to explore a variety of historical attractions. One remarkable site to visit is the Wellborn Musclecar Museum, situated inside a fully restored, vintage 1940s car dealership. This unique museum is dedicated to preserving and showcasing the great American automobiles of the 1960s and 1970s. Visitors can take a trip down memory lane, admiring classic cars like the 1971 Dodge Charger R/T Hemi, and learn about the history of the American automotive industry.
Another prominent historical site in Alexander City is Wind Creek State Park. The park spans over 1,400 acres and offers plenty of opportunities for outdoor recreation. Besides being an excellent location for camping, picnicking, and enjoying nature, Wind Creek State Park also holds historical significance. It was once part of the vast Creek Indian Nation, giving visitors a chance to discover the area's rich Native American history.
For those interested in military history, Horseshoe Bend National Military Park is a must-visit attraction. Located less than 20 miles from Alexander City, this park preserves the site of the final battle of the Creek War of 1813-1814. Visitors can explore the park's 2,040 acres, which include the battleground, an informative visitor center, and interpretive trails. They can delve deeper into the history of the conflict between American settlers, the Creek Indian Nation, and British forces during the Civil War era.
Lastly, the Tallapoosa County Museum provides a comprehensive look at the area's local history, including Alexander City's roots. Visitors can explore various exhibits and collections, learning about the region's past and the people who shaped it.
While exploring Alexander City and its historical attractions, visitors will gain a deeper understanding and appreciation for the area's rich history and fascinating past.
Lake Martin Activities
Lake Martin is a popular destination in Alexander City, Alabama, offering a variety of water-based activities and attractions. With approximately 750 miles of shoreline, the lake provides ample opportunities for boating, fishing, swimming, waterskiing, and sailing.
Boating enthusiasts can explore the vast expanse of Lake Martin, discovering hidden coves and pristine shorelines. Fishing is a popular pastime, with anglers casting their lines for bass, crappie, and catfish. For those who prefer to spend their time on the water, swimming, waterskiing, and sailing are top choices. The pristine waters and gentle breezes create an ideal environment for these exhilarating water sports.
Along the shoreline, visitors can find numerous spots for picnicking and soaking up the sun. One must-visit location is Chimney Rock, a unique geological formation that has become a popular gathering spot for boaters and swimmers. Those looking for a more serene experience can venture out on a canoe or kayak, gliding through the calm waters while taking in the natural beauty surrounding Lake Martin.
The AMP at Lake Martin is another exciting attraction situated on the lake. This outdoor amphitheater hosts live music events throughout the year, drawing in both locals and tourists. Concert attendees have the option of watching the performances from the shore or from their own personal watercraft on the water.
Those who enjoy golf can take a break from water activities and spend time at one of the nearby courses, such as the Charger. This 18-hole course offers a challenging yet enjoyable experience for golfers of all skill levels.
Outdoor Recreation
Alexander City, Alabama, is a haven for outdoor enthusiasts, offering a variety of recreational activities that cater to all ages and interests. The city is home to beautiful landscapes, including the Tallapoosa River, pristine lakes, and lush forests perfect for exploring and adventure.
Wind Creek State Park is one of the area's main attractions, located on the shores of Lake Martin. The park offers numerous opportunities for hiking, camping, and birding trails, making it an ideal destination for nature lovers. There's plenty of space for picnic areas and swimming spots, giving visitors access to a multitude of water-based activities, such as kayaking and fishing.
For those looking for more of a challenge, take a trip down the Tallapoosa River. This scenic waterway offers a range of exciting outdoor activities. Try your hand at kayaking, canoeing, or fishing, or embark on a guided tour to fully immerse yourself in the river's natural beauty.
Adjacent to the Tallapoosa River, the Horseshoe Bend National Military Park features stunning landscapes perfect for hiking and exploration. Additionally, its historical significance makes it an informative and educational visit.
If you prefer a more leisurely activity, Alexander City has options for you too, such as golfing. Several well-maintained courses offer players of all abilities an enjoyable day on the green, with picturesque views and challenging holes.
With its abundant recreational opportunities and serene natural landscapes, Alexander City provides outdoor enthusiasts a wealth of experiences to enjoy. Whether you're an avid camper, a keen golfer, or simply in search of some fresh air, this picturesque Alabama town is ready to welcome you with open arms.
Entertainment and Events
Alexander City is a vibrant destination offering a mix of entertainment and events to cater to diverse interests. One of the highlights in the city's event calendar is the Lake Martin Songwriters Festival. Held every August, this festival brings together talented songwriters from around the region for a weekend of live music and celebration, allowing visitors to enjoy performances and engage with local artists.
For those who love tribute acts, the Black Jacket Symphony is a must-see. This talented group of musicians performs iconic albums in their entirety, creating a unique live experience. One memorable performance includes their rendition of Fleetwood Mac's acclaimed album, "Rumours."
Music enthusiasts can also visit The Funky Goat, a popular venue in Alexander City showcasing local talent across various genres. With a mix of live bands, superb sound quality, and a lively atmosphere, it's the perfect spot to relax and enjoy some tunes.
In addition to music, Alexander City offers a thriving dining scene. From delicious Southern cuisine to casual cafes and fine dining, there is something for everyone. Don't miss out on the chance to try dishes crafted by local chefs and made with fresh, regional ingredients.
For a change of pace, catch a show at one of the nearby theatres. Whether it's a local production or a touring Broadway performance, the area's cultural offerings will delight theatre enthusiasts. Alexander City's convenient location also provides access to the bustling entertainment scene in Montgomery, expanding your options for a great night out.
To ensure you enjoy all that Alexander City has to offer, be sure to keep an eye on the local event calendars and secure your tickets in advance. With its vibrant array of entertainment and events, visitors and residents alike will never run short of things to do and see in this charming Alabama city.
Shopping and Dining
Alexander City, Alabama offers a variety of shopping and dining experiences for locals and visitors alike. In Downtown Alexander City, you'll find a charming mix of boutiques, antique stores, and restaurants, perfect for a family day out. For a truly unique experience, don't miss the one-of-a-kind Wellborn Musclecar Museum located in a fully restored, vintage 1940's car dealership.
Just a short drive away, Russell Crossroads is another must-visit shopping destination. This charming area boasts a selection of retail shops and eateries, making it an ideal spot for some retail therapy. Nearby, you'll find The Social at Lake Martin, a delightful place to dine with friends or family while taking in the stunning lake views.
For those who love spending time on the water, head to Bay Pines Marina on Highway 63. This full-service marina offers boat rentals, watersports equipment, and essentials for a day out on the lake. The marina also has an on-site restaurant, providing visitors with a convenient option for grabbing a bite to eat after a day on the water.
In addition to the marina restaurant, the Alexander City area also offers a variety of dining options to suit all tastes and budgets. Some popular choices include SpringHouse, an upscale American eatery with breathtaking views; Sho'Nuff Bar-B-Que, a local favorite for delicious barbecue dishes; and Who's Diner, a classic American diner serving up comfort food in a cozy atmosphere.
No matter your interests, Alexander City's shopping and dining scene has something for everyone. So whether you're exploring the downtown area, enjoying the stunning surroundings of Lake Martin, or simply shopping and dining at Russell Crossroads, you'll be sure to find a memorable experience in this charming Alabama town.
Around Alexander City
Alexander City, located in Alabama, offers a wide variety of activities and attractions for both locals and visitors to enjoy. Known for its outdoor adventures, there are woodland trails, riverside walks, and lakeside recreation options available.
One notable spot is Lake Martin, where you can spend your day boating, skiing, sailing, swimming, or even fishing. It's perfect for a relaxing vacation getaway in the serene surroundings.
For history enthusiasts, visiting Horseshoe Bend National Military Park in Daviston is a must-see. This historic site offers insights into the past and provides a beautiful spot for picnics and leisurely strolls.
A trip to Alexander City wouldn't be complete without stopping by the Farmers Market. This bustling event in Main Street Alex City offers fresh produce, local products, and a lively atmosphere for everyone to enjoy.
In addition to the outdoor activities, Alexander City has several attractions to offer indoors. The Wellborn Muscle Car Museum showcases a collection of classic and modern muscle cars, perfect for auto enthusiasts. Meanwhile, movie theaters and performance venues provide opportunities for entertainment and shows throughout the year.
Don't forget to explore the nearby towns of Dadeville, Elmore, and Sylacauga, which each have their own distinct charm and character. These nearby areas also offer additional recreational activities and attractions to explore during your visit to Alexander City.
Taking advantage of the numerous outdoor adventures, visiting historical sites, and enjoying the vibrant local community events ensures your time spent in Alexander City will be memorable and engaging.