Alabama boasts a vibrant tattoo scene, filled with a range of talented artists and studios catering to various styles and techniques. As interest in tattoos has grown over the years, a number of top-rated establishments have opened their doors, offering customized designs, exceptional service, and safe environments for those looking to get inked.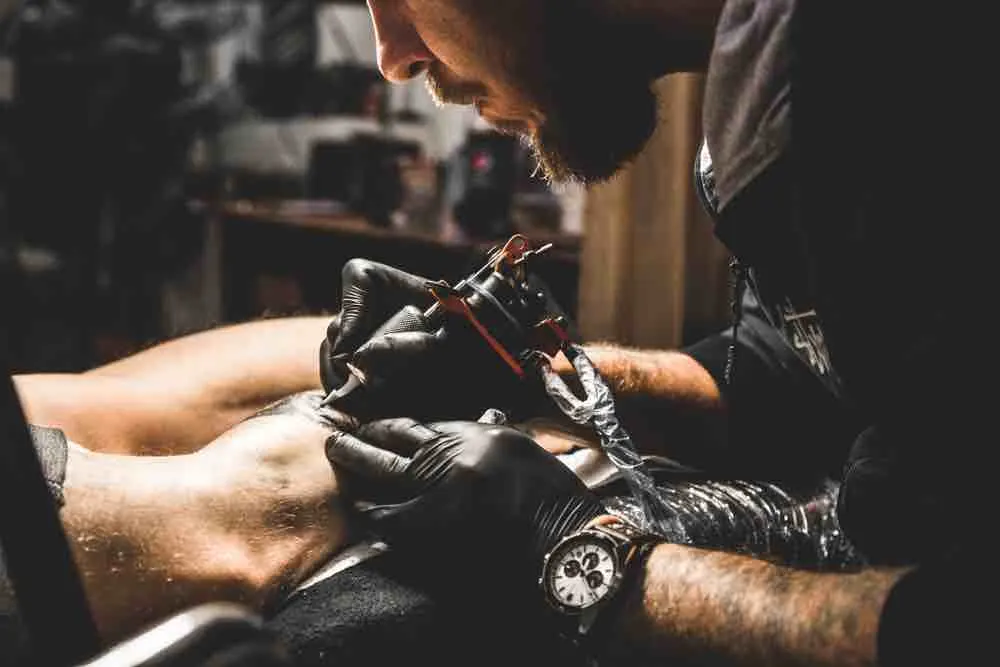 Top tattoo shops in the state pride themselves on their ability to bring clients' visions to life, whether it's an intricate custom piece or a classic design. Safety and cleanliness are of utmost importance to these businesses, ensuring clientele can feel at ease throughout their tattoo journey. Social media and online presence have become vital tools for artists to showcase their work and connect with potential customers, while positive testimonials and reviews from satisfied clients solidify the reputation of these praised establishments.
Key Takeaways
Alabama is home to numerous top-rated tattoo shops with talented artists and diverse styles.
A focus on customer satisfaction, safety, and cleanliness is critical for reputable tattoo establishments in the state.
Social media and online presence play a vital role in showcasing an artist's work and connecting with potential clients.
Top Tattoo Shops in Alabama
Alabama is home to numerous talented tattoo artists and incredible tattoo shops. This guide will showcase some of the top tattoo shops throughout the state, in cities like Birmingham, Huntsville, Mobile, Daphne, and Foley.
Classic 13 Tattoo
Located in Birmingham, Classic 13 Tattoo is a renowned shop in Alabama. The owner, Bryan Haynes, has been involved in the tattoo industry since 2001. His versatile tattoo styles include Traditional, Neo-Traditional, New School, Celtic, Japanese, and Custom Lettering. Classic 13 Tattoo offers quality tattoos in a safe environment, ensuring customer satisfaction.
The Bell Rose Tattoo & Piercing
In Daphne, The Bell Rose Tattoo & Piercing stands out as a top tattoo shop. They provide clients with an exceptional experience, offering various tattoo styles and professional piercings. Their welcoming environment, along with their highly skilled artists, guarantee a memorable visit.
Skinworx Tattoo Studio
Skinworx Tattoo Studio, situated in Pelham, is known for its realistic tattoos with fine details. The artists at this shop excel at bringing designs to life, providing clients with affordable prices on their high-quality work.
Blue Rose Tattoo
Found in both Mobile and Foley, Blue Rose Tattoo has built a reputation for its mastery of different tattoo styles and techniques. Clients can expect professional service, attention to detail, and outstanding results from the experienced artists at Blue Rose Tattoo.
Revolution Ink
Revolution Ink, based in Birmingham, is another top choice for tattoos in Alabama. They offer various styles and techniques, focusing on client satisfaction and producing awe-inspiring artwork. Their commitment to quality makes Revolution Ink a popular choice.
Evol Ink Studio
In Mobile, Evol Ink Studio is known for its incredible artwork and talented artists. This shop aims to exceed its clients' expectations, providing a comfortable environment to create unique and meaningful tattoos tailored to individual preferences.
Old School Ink Electric Tattoo
Old School Ink Electric Tattoo in Huntsville showcases the skillset of accomplished artists in a comfortable atmosphere. This shop maintains a reputation for producing bold tattoos that truly capture the essence of each client's personality and style.
These top tattoo shops in Alabama offer excellent workmanship and an array of tattoo styles. Visiting any of these establishments guarantees clients a superior tattoo experience and unforgettable artwork.
Tattoo Styles and Techniques
Alabama is home to numerous tattoo shops that offer a wide range of styles and techniques to cater to diverse tastes. One popular style is Traditional tattooing, which focuses on bold lines and bright colors. This classic style is often seen in the work of well-known tattoo artist Bryan Haynes, who owns Classic 13 Tattoo Studio. He also specializes in Neo-Traditional, New School, Celtic, Japanese, and Custom Lettering tattoos.
Japanese tattoos are another popular style in Alabama, with intricate designs showcasing traditional elements, such as koi fish, dragons, and samurais. An appreciation for vibrant colors and elaborate illustrations is evident in these tattoos.
Old School, also known as American Traditional, is a timeless style that is quite prominent in the state. Characterized by bold outlines and minimal color palettes, Old School tattoos commonly feature nautical imagery, pin-up girls, and roses.
Portraits and Realism tattoos are increasingly popular in Alabama, demonstrated in centers like Skinworx Tattoo Studio in Pelham. Particular attention is paid to ensuring lifelike representations and capturing fine details in these tattoos.
Besides that, Geometric and Abstract tattoos have also gained traction in Alabama with intricate patterns and mesmerizing art, suitable for those looking for a more modern and unconventional design. For nature lovers, Wildlife tattoos are also offered in great detail and vibrant colors.
Black and Grey tattoos are known for their monochromatic color palette while still delivering striking results. Many tattoo artists in Alabama are quite skilled in this style, offering tattoos with an understated, yet timeless, look.
In addition to new tattoos, the artists in Alabama are also well-versed in Cover-Up tattoos. Clients can opt to replace an old or undesired tattoo with a fresh design, breathing new life into their body art.
Furthermore, tattoo shops in the state cater to a wide range of personal preferences and beliefs. This can be seen in the availability of Memorial, Religious, Horror, and Polynesian tattoo styles, among others.
Other popular styles in Alabama include Watercolor tattoos, known for their delicate, painterly aesthetic, and Photo Realism, which captures near-photographic precision in tattoo art. Whether clients seek a minimalist design or a detailed, eye-catching piece, Alabama's tattoo shops can accommodate various styles and techniques, ensuring a memorable experience for enthusiasts and newcomers alike.
Piercing Services
When it comes to piercing services in Alabama, there are several top-notch tattoo shops that also offer professional body piercing. These establishments prioritize a hygienic environment and skilled piercing artists, ensuring that clients receive the best possible experience.
One highly recommended shop is Classic 13 Tattoo located at 2107 2nd Ave S, Birmingham, AL 35233. Not only do they offer a wide variety of tattoo styles, but their experienced specialists also provide oral, dermal, and even genital piercings. You can contact them at 205-224-5666 to inquire about their piercing services. Classic 13 Tattoo is an excellent option for those looking for a clean and comfortable space.
Stay Gold Tattoo Studio is another well-regarded piercing spot in Birmingham. The staff and artists at this studio are known for their professionalism and dedication to providing a pleasant experience. They offer various types of piercings, and clients have praised them for their friendly approach and clean environment.
If you're in northern Alabama, North Alabama Ink in Florence is a great destination for your next body piercing. They have a skilled team of piercing artists who ensure a smooth process and prioritize client safety. This shop has a reputation for providing excellent services and has become a local favorite.
For those who prefer a more specialized piercing destination, MiaJ PIERCINGS in Birmingham might be the best choice. This place focuses solely on piercings and has a passionate and knowledgeable staff. Clients have commended the shop for its clean and welcoming environment, making it a reliable choice for all your piercing needs.
Whether you are considering your first piercing or looking to expand your existing collection, these tattoo shops in Alabama offer an array of body piercing services. With their experienced staff, clean facilities, and commitment to providing excellent customer experiences, you can feel confident and well-informed as you select the perfect place for your next piercing.
Award-Winning Tattoo Artists
Alabama is home to some truly outstanding tattoo artists who have gained recognition and awards for their exceptional work. One such notable artist is Bryan Haynes, who owns Classic 13 Tattoo Studio. Bryan has involved himself in the tattoo art scene since 2001, and his body art showcases an impressive range of styles, including Traditional, Neo-Traditional, New School, Celtic, Japanese, and Custom lettering. Be sure to make an appointment before dropping by Bryan's studio.
Yoshi is another award-winning tattoo artist known for his intricate detailing and innovative designs that captivate clients. With a vast portfolio of styles, Yoshi can create unique tattoos tailored to individual preferences. His attention to detail and skill make him a sought-after artist in the Alabama tattoo community.
Greg Ashcraft earns a well-deserved place amongst the top tattoo artists in the state. With a versatile approach, Greg incorporates striking details and vivid colors in his tattoos, resulting in visually stunning body art. His expertise spans various styles, making him an excellent choice for clients looking for personalized and unique tattoos.
Peter Anderson has earned accolades for his astonishing craftsmanship. Specializing in black and grey tattoo designs, he can bring even the most complex ideas to life with unparalleled precision.
At Skinworx Tattoo Studio in Pelham, the talented Rizzo creates tattoos that look so real, you'd think they were alive. Her attention to fine details and her skills in delivering amazing results make her a standout tattoo artist, and clients appreciate both her affordable pricing and unmatched artistry in the area.
Appointment Process
When looking to get a tattoo in Alabama, scheduling an appointment is often recommended due to the popularity and demand for the services of top-rated tattoo studios. This enables the tattoo artist to allocate proper time to design and execute the custom tattoo, giving you the best possible result and experience.
To begin the appointment process, you can choose a tattoo artist by researching their portfolio and evaluating their skills and tattoo style. Studios such as Classic 13 Tattoo in Birmingham and Man O' War in Fairhope have garnered praise for their professional artists and high-quality work. Many artists showcase their tattoo art on their studio profile or social media platforms, such as Instagram, making it easier to assess their style and craftsmanship.
Once you have selected a tattoo studio or artist, you can reach out to them via phone, email, or through their preferred platform. During the initial correspondence, you can discuss your desired tattoo design, its intricacies, and the potential timeline for completion. This is also an excellent opportunity to inquire about pricing, as this may vary by artist and the complexity of the tattoo design.
Before finalizing your appointment, ensure that you clearly understand the deposit policy, as some studios require a non-refundable deposit to secure a slot. This deposit often goes towards the final cost of your tattoo. Keep in mind that appointment flexibility is a crucial factor, as rescheduling or cancellations might be necessary due to unforeseen circumstances.
Although appointments are encouraged, walk-ins are typically accepted in many tattoo parlors. However, this may not guarantee an immediate session with the artist, especially during peak hours or if the artist is working on a time-intensive project.
All in all, the appointment process for a tattoo studio in Alabama is relatively straightforward. Selecting a reputable studio, booking an appointment, discussing your tattoo design, and cooperating with the artist is essential for a smooth and satisfying tattoo experience. Remember, the key to a successful tattoo is effective communication between you and the artist, ensuring your vision comes to life in the most precise and meaningful way.
Creative and Custom Designs
In Alabama, tattoo shops offer a variety of creative and custom designs to help clients express their unique personality through body art. One notable studio, Evol Ink Studio in Birmingham, stands out for its upscale environment and supplementary services such as Rejuvi tattoo removal and permanent makeup. They provide clients with an array of design options, from custom lettering to intricate mandalas.
Tattoo artists across Alabama are skilled in various styles and techniques, allowing them to create beautiful and intricate designs. For instance, Bryan Haynes, owner of Classic 13 Tattoo Studio, specializes in a range of styles including Traditional, Neo-Traditional, New School, Celtic, and Japanese. His custom lettering and color work adds a personal touch to every piece, making each tattoo unique and eye-catching.
Cover-ups and tattoo removal services are also commonly offered at many Alabama tattoo shops. Rejuvi tattoo removal, for instance, provides a non-invasive alternative to traditional tattoo removal methods. This allows clients to clear up unwanted ink and make space for new, creative designs that better reflect their current style or beliefs.
Many tattoo artists in Alabama are proficient in crafting awe-inspiring designs such as skulls, skeletons, fish, and fantasy-themed tattoos, which often require intricate details, a steady hand, and an artistic eye. The ability to merge these elements successfully is a testament to the artists' skill and passion for their work.
Colorful tattoos are quite popular among clients seeking a vibrant and striking design. Many tattoo shops in Alabama specialize in creating vivid color work that enhances the overall aesthetic of a tattoo. From vibrant fish to bold fantasy art, these artists ensure that each piece truly stands out against all odds.
Social Media and Online Presence
In today's digital age, the best tattoo shops in Alabama maintain a strong online presence to showcase their work and connect with potential clients. Social media platforms, such as Facebook and Instagram, are popular channels for artists to display their portfolios, interact with customers, and promote their services.
Many tattoo shops create a professional website to provide information about their artists, the tattoo process, and pricing. These websites often feature a dedicated tattoo gallery section, which showcases their diverse styles, including realistic, traditional, neo-traditional, and custom lettering, among others. The galleries help clients find inspiration as well as evaluate the talent and expertise of the artists.
Realistic pricing and cost transparency are essential factors for clients when selecting a tattoo shop. A majority of these websites include detailed pricing options, and some even provide a cost estimator tool, making it simple for clients to gauge the potential costs of their desired tattoo design. Transparency in pricing builds trust between clients and tattoo artists, and it encourages customers to choose a shop that aligns with their budget.
An active social media presence is crucial for the success and growth of any tattoo shop. Instagram, with its visually driven platform, is one of the most popular social media outlets for tattoo artists. They regularly update their feed with new designs, works in progress, and even behind-the-scenes footage of the tattooing process. This powerful visual appeal allows potential clients to get a sense of an artist's style and abilities while also engaging with the shop on a personal level.
Best Tattoo Shops by City
Birmingham is home to several top-rated tattoo shops. Evol Ink Studio stands out for its upscale environment and quality tattoos. Another popular shop in Birmingham is Classic 13 Tattoo Studio, owned by renowned tattoo artist Bryan Haynes.
In Mobile, you will find 12 notable tattoo shops. While each offers unique styles and specialties, it's important to choose one that aligns with your desired tattoo design and aesthetics.
Pelham boasts the Skinworx Tattoo Studio, known for its realistic and detailed tattoos. The talented ink artists here create beautiful pieces that truly stand out in the area, and they offer affordable prices for their high-quality work.
In Anniston, be sure to check out Anniston Ink. The artists here are skilled in a variety of styles, ranging from American Traditional to Japanese. Their versatility and attention to detail make them a favorite among locals.
Phenix City has top-notch tattoo shops as well. Skinsations Tattoo Studio is a must-visit if you're in the area. With a loyal customer base, this studio is known for its creative, custom designs, and excellent customer service.
Southside is home to Southside Ink, a cozy, welcoming shop that offers a variety of tattoo styles to suit every individual's needs. Their artists consistently receive rave reviews for their stunning work and attention to detail.
When in Auburn, consider Auburn Tattoo Company. This highly-rated shop has a reputation for exceptional quality, excellent hygiene, and friendly staff who are well-versed in a variety of tattoo styles.
Tuscaloosa offers an array of tattoo shops, each with their own unique flair. Tuscaloosa Tattoo stands out for its skilled artists and wide range of styles, including custom designs.
Calera's go-to tattoo shop is Inked Out Tattoos. Known for their clean, professional environment and attentive, talented staff, Inked Out is a great place to get a tattoo that you'll love for years to come.
Lastly, in Hanceville, you'll find an excellent mix of shops to choose from. One standout in the area is Hanceville Ink, a creative space with experienced artists who specialize in various techniques and designs to suit any preference.
Testimonials and Reviews
Many tattoo enthusiasts in Alabama have shared their satisfied experiences at various tattoo shops across the state. One customer at Classic 13 Tattoo Studio stated that the environment was relaxing, and owner Bryan Haynes' mix of Traditional, Neo-Traditional, New School, Celtic, Japanese, and Custom lettering styles added an impressive depth to the artistry available.
Skin Traditions in Phenix City is well-regarded for their diverse range of tattoo styles and nurturing of true professionals. A client mentioned the shop's excellent service, from expert consultations to the creation of memory-worthy tattoos. This attention to detail and commitment showed they have professional artists who understand their clients' needs.
A patron who visited Artistic Addictions in Birmingham praised their collection of art-i-facts and the high-quality workmanship. The clean, comfortable atmosphere contributed to a great overall experience. The professional, knowledgeable staff were highly skilled and adept at delivering their clients' desired tattoos.
Tattoo Expression in Mobile stands out for its focus on a variety of tattoo techniques, with one customer expressing gratitude for the expert rejuvi tattoo removal services provided. A neutral and clear review cited the shop's commitment to maintaining high standards of cleanliness and top-notch artistry that left them feeling confident in their decision.