Alabama, known for its rich history and beautiful landscapes, is also home to some of the scariest and most thrilling haunted houses, perfect for Halloween enthusiasts and thrill-seekers alike. From Montgomery to Birmingham, the state offers a wide variety of spooky attractions that cater to different levels of fear, making it a popular destination for those looking to experience some spine-chilling moments.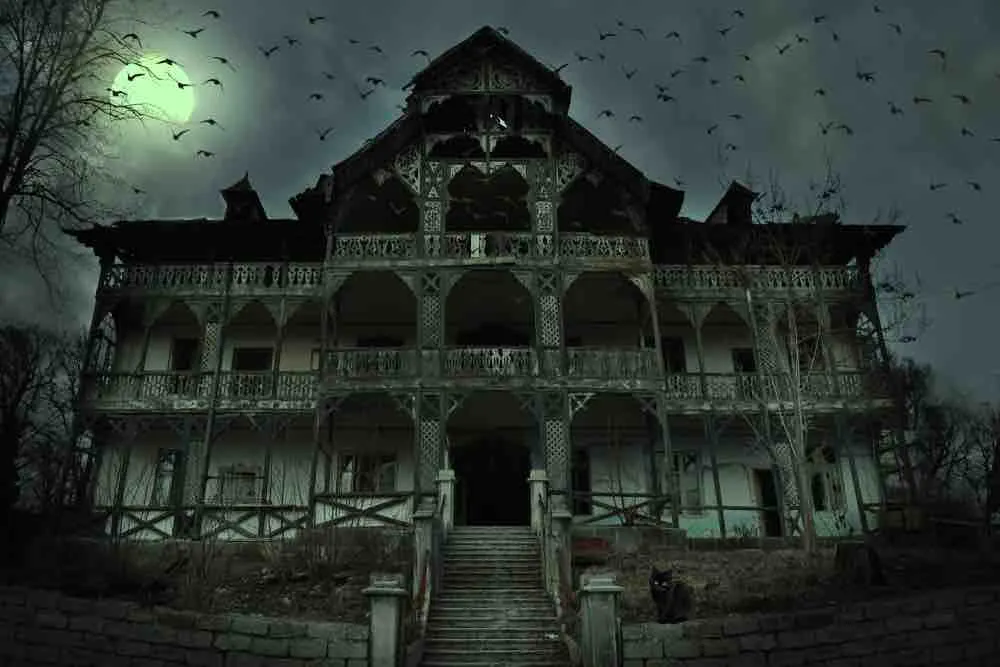 Each haunted house in Alabama brings its unique touch, presenting visitors with an assortment of horror-themed events and attractions, ranging from haunted trails and hayrides to ghosts of historical significance. With so many options available, it might be challenging to decide which haunted house to visit, but rest assured that the haunted houses in Alabama will provide a memorable and terrifying experience.
Key Takeaways
Alabama offers a diverse selection of haunted houses, catering to different fear levels
Numerous Halloween events and attractions are available, including haunted trails and hayrides
Check for visitor information and updates to make the most out of your haunted house experience
Top Haunted Houses in Alabama
Atrox Factory
Located in Leeds near Birmingham, Atrox Factory is known as one of the largest haunted attractions in Alabama. This popular haunt offers a terrifying experience featuring live actors, special effects, and movie-quality sets that will leave you shaking in your boots. If you're looking for an unforgettable night of fright, Atrox Factory should be on your list.
Arx Mortis
For fans of haunted experiences in the Northern Alabama region, Arx Mortis remains a must-visit attraction. Situated in Killen, Arx Mortis boasts over 50,000 square feet of spine-chilling entertainment. The haunt fuses the terror of zombies, ghosts, and other paranormal entities in a uniquely themed environment, so be prepared for a fear-inducing journey at Arx Mortis.
Warehouse 31
If you find yourself in Pelham, Warehouse 31 is the haunted house you don't want to miss. Offering a spine-tingling adventure, patrons must navigate their way through terrifying scenes and encounters with horrifying creatures. Known for its attention to detail and bone-chilling encounters, Warehouse 31 promises a hauntingly good time.
Uprising
In Eastaboga, the City of Chaos awaits thrill-seekers at Uprising, an 8-building structure featuring a haunted house, Tunnel 109, and graveyard. Additionally, this venue offers a haunted paintball experience with Chaos Convoy, sure to entertain and terrify visitors in equal measure.
Nightmare at 3008
Nightmare at 3008, located in the Birmingham area, has been ranked by fans as the must-see haunt in Alabama in both 2018 and 2019. This top-rated attraction presents a variety of spine-tingling experiences. As a haunt with a heart, Nightmare at 3008 donates a portion of its profits to Children's of Alabama Childhood Cancer Research.
The Haunted Chicken House
If you're in search for a unique, immersive experience near Auburn, The Haunted Chicken House is the haunt to visit. The attraction takes you deep into the creepy woods with twists, turns, and 13 rooms that will keep you scared out of your mind! This uniquely themed haunted attraction is sure to leave a lasting impression on every fear enthusiast.
Halloween Events and Attractions
During the fall season in Alabama, a variety of exciting Halloween events and haunted attractions will have visitors feeling both scared and thrilled. Immerse yourself in the darkness of woods, and experience the horror with haunted hayrides, trails, paintball experiences, and more.
Haunted Hayrides
Join a haunted hayride to tour through the eerie woods, where surprises can lurk behind every turn. As fall sets in, these experiences become popular among locals and tourists alike, offering unique scares for those who dare to board the wagon.
Haunted Trails
Explore the horrors hiding within Alabama's woods by venturing onto haunted trails. Perfect for thrill-seekers, these haunted attractions feature ominous settings filled with spine-tingling scares. Walk through the darkness at your own risk, as you never know what terrifying creatures await.
Paintball Experiences
For an interactive Halloween event, engage in adrenaline-pumping paintball experiences. Battle against sinister beings in a fight for survival, stepping straight into a horror movie scene. These events provide immersive and thrilling memories for everyone involved.
The Horror Tuscaloosa
Within the city of Tuscaloosa, prepare to face the horrors that await at The Horror Tuscaloosa. Known for its chilling events and haunted attractions, this location attracts visitors from all areas, ready to embrace the scares and excitement during the Halloween season.
Historic Haunted Places
Sloss Furnaces
Sloss Furnaces, located in Birmingham, Alabama, is a historic industrial site that operated from 1882 to 1971. It played a significant role in the city's history and growth during the Industrial Revolution. However, many lives were lost due to hazardous working conditions, and it is believed that the spirits of those workers still linger at the site.
Today, Sloss Furnaces is a National Historic Landmark and hosts various events, including paranormal investigations. Visitors and staff have reported unexplained noises, apparitions, and a feeling of being watched. The most infamous ghost said to haunt the location is that of a former foreman named James "Slag" Wormwood, who had a reputation for being harsh and demanding. Many believe that his spirit still roams the grounds, ensuring that work continues within the furnaces.
The haunting history of Sloss Furnaces, coupled with its importance in Alabama's history, makes it one of the top haunted places in the state for those interested in paranormal activity.
Fort Morgan
Fort Morgan, located on the Gulf Coast in Baldwin County, Alabama, is a historic military site with a long and storied past. Built between 1819 and 1834, the fort played a significant role in several conflicts, including the Civil War, the Spanish-American War, and both World Wars.
As with many historic battle sites, Fort Morgan has earned a reputation for being haunted. Visitors and staff have reported numerous instances of paranormal activity, including unexplained sounds, such as footsteps and distant voices, as well as ghostly apparitions believed to be former soldiers. One of the most well-known spirits is said to be a woman in a flowing white gown, who has been seen walking the beach near the fort, possibly searching for her lover lost at sea.
History enthusiasts and paranormal investigators alike are drawn to Fort Morgan's rich past and the ghostly presence that still lingers within its walls. The fort's status as one of the most haunted places in Alabama makes it a must-visit location for those seeking connections with both the living and dead histories of the state.
Haunted Houses by Location
Huntsville
In Huntsville, you can experience the thrill at Nightmare at 3008. Known for being a top-rated haunted house, fans ranked it as the #1 must-see haunt in Alabama in 2018 and 2019. Not only do they provide scares, but they also donate a portion of their profits to Children's of Alabama Childhood Cancer Research.
Montgomery
Montgomery boasts some spooky attractions as well. While specific haunted houses in Montgomery may vary each year, you can always rely on finding some horrific haunted house events, haunted trail walks, and haunted hayride attractions in the area. Keep an eye out for updated listings during the Halloween season.
Greenville
Although Greenville isn't widely known for its haunted houses, during the Halloween season, it is possible to find some eerie attractions nearby. Make sure to check local listings for haunted houses and events in this area.
Dozier
Dozier, Alabama, located not far from Greenville, also offers haunted attractions during the Halloween season. Check local listings for updated information on haunted houses, trails, and hayrides in the Dozier area.
Visitor Information and Updates
Alabama is home to numerous haunted houses that promise thrilling experiences for those seeking a good scare. Each attraction has a unique theme and setting, ranging from dark, chaotic indoor spaces to sprawling outdoor trails that grip visitors with an eerie allure.
Nightmare at 3008 in Fultondale, Alabama, has been a popular destination for adrenaline junkies since its opening in 2012. Known for its dark, chaotic, and grungy style, this haunted house features both indoor and outdoor trails that lead visitors through a petrifying web of twists and turns.
Atrox Factory, located in the South and boasting over 50,000 square feet, prides itself as the largest indoor haunted attraction in the Southeast. With over 1/4 mile of twisted hallways and spine-chilling rooms, Atrox Factory is a must-visit for anyone looking to get their pulse racing.
For those seeking a more interactive experience, Doomsday Haunt near Limestone, Alabama, offers a heart-stopping drive through a creepy military facility. Armed with laser weapons, be prepared to face your fears head-on and embark on the scariest drive of your life.
Some of these attractions enhance their visitor experience with additional features such as a photo gallery that showcases heart-stopping moments and captures the essence of each haunted house. Moreover, some haunted houses release video teasers and updates to keep fans informed about recent developments and trending frights.
It's important for visitors to check for any recent updates or changes before visiting, as haunted houses may alter their profiles, themes or settings throughout the year. Additionally, some attractions may have time-sensitive listings, changing their offerings or schedules depending on the season.